Blog
Young Couple Takes on New Assignment at Greater Bethel A.M.E.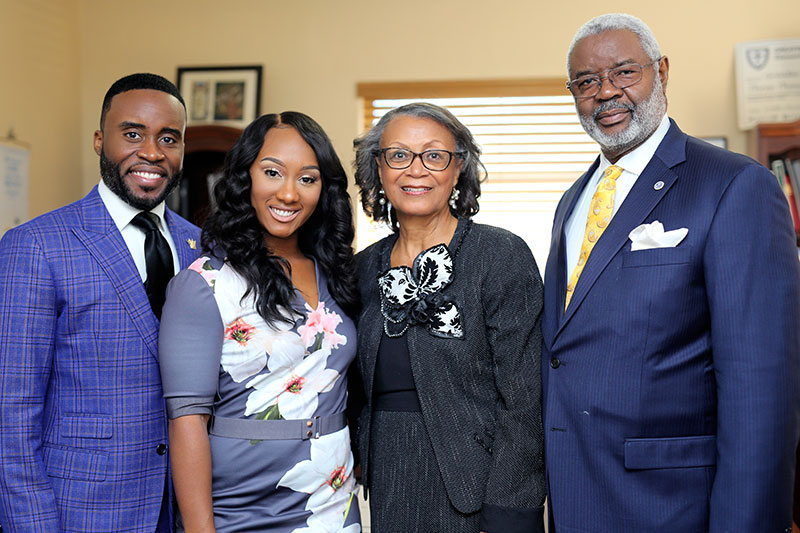 On November 16th, 2018 Rev. Willie N. Barnes, Jr. was assigned to Greater Bethel A.M.E Church In Miami, FL. On November 18, 2018, the Rev. Willie Barnes, Jr. and his wife, First Lady FranShon Reid-Barnes were greeted by the new congregation. There to welcome them were also Presiding Elder & Mrs. Harvin of the South District. The Rev. Barnes received his appointment on November 16, 2018, from Bishop Adam J. Richardson, Jr. of the 11th Episcopal District. "We are extremely humbled to be assigned to Greater Bethel," said the Rev. Barnes. "We are excited that our skill set, background, and God's unmerited favor have allowed us the opportunity to help take this congregation and community to greater heights," he added.
The Rev. Barnes is a native of Lakeland, Florida, and began his pastoral ministry in 2012 with an appointment to Bethel AME Church in DeLand, Florida, and Mount Zion AME Church in Daytona Beach, Florida, thereafter. He has also held positions as adjunct professor of religion at Bethune-Cookman University and University Chaplain at Stetson University, both located in Florida. He is a graduate of Yale Divinity School and Florida A& M University. He is currently pursuing his doctorate degree in Sociology at the University of Central Florida. "Two strategies for increasing our impact in the city will be to love and lead the people and also make sure that we collaborate with other stakeholders and groups. I believe Greater Bethel is the perfect match for which our family is tasked for rebuilding a ministry without walls. I believe these strategies will truly create a ministry that transcends racial, ethnic, economic, and social barriers," he added.
Lady FranShon Reid-Barnes is a sixth generation preacher and daughter of Bishop Frank M. Reid, III and Episcopal Supervisor Marlaa Reid. She is a dynamic businesswoman with a background in event planning, script writing, and social media. She is also a graduate of Spelman College, Magna Cum Laude and Phi Beta Kappa. She is currently in her first year of the Board of Examiners. In relation to Greater Bethel, she states "I am extremely grateful for my husband's appointment and the ministry opportunities ahead."
The millennial innovators, the Rev. Barnes and Lady Barnes, have acquired many experiences under global leaders. Their ministry partnership and love story took wings under the leadership of current Bishop Frank Madison Reid, III, the former pastor of Bethel AME Church in Baltimore, and third generation bishop in the AME Church.
During the summer of 2010, the Rev. Barnes interned at Greater Bethel and worked alongside the future Mrs. Reid-Barnes. There, the training of servant leaders and a commitment to Christ-like creative ministry for all generations is a part of what prepared the Barnes team for their new endeavor.
Bishop Reid's advice was "Love the people, learn the people, and then the people that you serve will give you leadership. Once they give you leadership, God will not only liberate the pastoral ministry but God will also liberate the surrounding community."
The historic church, also known as "Greater" has hosted world-renowned speakers and politicians and is currently housing numerous organizations, community groups, and local churches offering services related to human trafficking, meals for those in need, and more. The Rev. Barnes and family are grateful for the appointment and guidance from their Episcopal leaders Bishop Adam J. Richardson and Supervisor Connie S. Richardson, Jr.
By: Ursula James, Jhada Walker
---
‹ Back